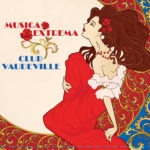 Musica Extrema, a musical formation with a unique sound due to the interesting combination of instrumentalists and the various musical backgrounds of the musicians, takes you back to the musical melting pot of the burlesque night clubs of the 1920s and 30s.
During the Post World War I era, it was in these night clubs of Paris, Berlin and New York that jazz, folk, and classical music blended together and mixed with eccentric entertainment theatre, known as variety theatre. This all comes together in Club Vaudeville, a place where night revelers and the extravagant meet.
Club Vaudeville is a collection of remarkable adaptions of famous French, German an American songs of the time.
CLUB VAUDEVILLE

Music from the 1920s and 30s forms the basis of both the album and theatre show Club Vaudeville. Within the mysterious night clubs of New York, Paris and Berlin, jazz and classical musicians started to play entertainment music for the masses, inspired by folk music that traveled along with the large-scale migrations at the time.
The music of the 20s and 30s was no longer made solely for concert halls, but also for night clubs and the underground scene. Radio became a widely used medium and so did the record player, through which music became accessible to all, not solely the elite.
Both the after effects of World War I and the increasing tension which would eventually lead to World War II have their effects on the music. Not only optimism and relief, but also defeatism and decadence set the tone.
MUSICA EXTREMA

The group Musica Extrema was formed in 2003, a joint collaboration of violinist Tanya Schaap and saxophonist Ben van den Dungen, who have been the artistic leaders of this ensemble ever since the very beginning. The ensemble (consisting of violin, but also saxophone, accordion, contrabass and piano among other instruments) is not commonplace, and makes for a unique sound.
The name Musica Extrema is a direct reference to the versatility of its repertoire: inspiration is drawn from classical music, jazz, European folk and the entire South-American continent, among other influences.
Over the past years, Musica Extrema has done multiple tours through Europe, but also performed at unique locations such as the North Pole, Siberia, Korea and across South-America. The past few years, the group has toured in large theaters across China and Russia. In their own country, Musica Extrema has performed in various theatres with their own productions such as Havana, the St Matthew Passion and the dance performance Tangomania.