Miles Davis was famous for his genius ideas and passionate lifestyle. The music he touched would never be the same. Kind of Blue, Ascenseur pour l'Echafaud and later Tutu belong to the most legendary albums of jazz. The programm Miles! is a smashing tribute to the man with the horn in sound and picture.
Miles! takes you on a trip through the roaring and creative brain of a genius in the golden age of jazz and through times of big change. The assassination of president Kenney, the landing on the moon. On the hand of intimate portraits an image is created of The Picasso of Jazz.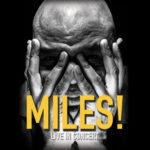 Click on the following button to buy this album!